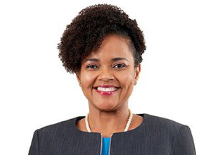 Claudine Allen

General Manager
Claudine Allen was appointed General Manager of the JN Foundation on December 1, 2020.  In this role, she will lead the Foundation's efforts to contribute to the developmental needs of Jamaica. She will also drive programmes that nurture oneness with JN Group members so that together we may leverage our relationships and resources to enrich lives and build communities.  As Member Ombudsman, she will continue to champion the interests of members and lead efforts to resolve customer issues, facilitate measurement and analysis of customer experience and leverage member feedback to inform the direction of the Group.
She was appointed Executive for the JNBS Enterprise Contact Centre and Member Ombudsman in January 2015.   With the restructuring of the Society in February  2017, she was appointed Executive – Member Relations and Quality Assurance and Member Ombudsman for The Jamaica National Group.
Miss Allen joined the Jamaica National Building Society as Communications Specialist in the Corporate Communications department in 2006 and has also served as Special Assistant to the General Manager – a position she held for six years.  She brings to the Group expertise in corporate affairs and public relations, customer service, business administration, and advertising.
She gained the Master of Science, Public Relations at Syracuse University and the BA (Hons), Media and Communication, from The University of the West Indies (UWI).  She is a director of the Jamaica Customer Service Association and United Way of Jamaica.