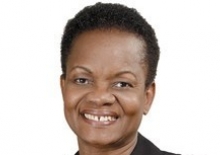 Mary Allen Smith is a retired banker who serves as a Justice of the Peace for the Parish of St. Andrew. She is a director of the JN Foundation and JN Small Business Loans Limited.
A graduate of The University of the West Indies (UWI), and the University of Bradford, UK, Mary Smith's professional career began in the Jamaican public sector where she served as Senior Economist at the Bank of Jamaica.  She also worked as Counterpart Consultant at the Road Planning Unit of the Ministry of Construction and as International Loans Administrator at the Ministry of Finance. Within the JN Group she has served as Financial Analyst, Business Process Redesign Team Leader, Executive of Corporate Planning, Budgeting and Special Projects and as Group Chief Risk officer. She is the Immediate Past President of the JN Pensioners Association.
Within the Seventh- day Adventist Church in Jamaica, Mrs. Allen Smith serves as a Director of the Northern Caribbean University's Endowment Fund;  Member of the EJC's Conference Wide Development Fund Management Committee and the EJC's Strategic Development Committee. She is also an Associate in the: Pathfinder Club, Risk Management Department, Treasury Department, and the Choir of the Andrews Memorial SDA Church.