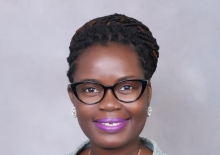 Onyka Barrett Scott
General Manager
Mrs. Barrett Scott is a senior practitioner dedicated to eradicating poverty and reducing inequalities that exist in societies and has more than a decade of experience working with civil society. Her dedication to the upliftment of people has allowed her to collaborate with multiple partners across the Caribbean, Latin America, Kenya and Ghana. She has had responsibility for project implementation at a variety of local, regional and international NGOs.
Mrs. Barrett Scott's key area of focus in her career has been finding innovative and sustainable ways to reduce poverty in Caribbean populations. This focus has allowed her spearhead a number of projects addressing issues around access to justice, youth participation, national volunteerism, humanitarian aid and human resource development. She is particularly noted for her big picture thinking, results-oriented attitude and collaborative approach.
Having worked in both the private and NGO sector, she brings a unique perspective to the field of development and has honed her skills in programme development & implementation and organisational capacity building.
From 2007 – 2011, she was appointed by Cabinet in Trinidad & Tobago to serve on the Inter-Ministerial Committee responsible for monitoring the Convention on the Rights of the Child  and National Plan of Action for Children.
Mrs. Barrett Scott holds the MSc, Development Studies (with Distinction) from SALISES, UWI, a Post Graduate Diploma in Humanitarian Assistance, CIHC – Fordham University (USA) and a BA (Hons), Human Resource Management, Anglia Ruskin University (UK).