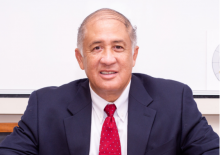 Parris A Lyew-Ayee

Chairman
Parris A. Lyew-Ayee joined the Board of Directors of the Jamaica National Building Society in June 2007, having previously served as a director of NEM Insurance Company (Ja.) Ltd, a subsidiary of the JN Group. A board member of the JN Foundation since 2007, he was appointed Chairman of JN Small Business Loans in 2009 and Chairman of the JN Foundation in 2018. With the launch of JN Bank in February 2017, he was appointed a board member of the restructured mutual holding company, The Jamaica National Group.
In the public sector, Mr Lyew-Ayee has also served as a member of the boards of directors of the Jamaica Bauxite Institute, St Ann Jamaica Bauxite Partners Ltd, the Water Resources Authority, and the National Resources Conservation Authority; he also served on the board of the King's House Foundation. Currently he serves on the Campus Council, the Finance and General Purposes Committee, the Campus Audit Committee, the Strategy and Policy Committee, and the Buildings & Grounds Committee of the Mona Campus of The University of the West Indies; he is also a member of the board of directors of the Mona GeoInformatics Institute at the UWI. He is also the Chairman of the Board of Directors of Caribbean Cement Co. Ltd.
Mr Lyew-Ayee was the president of the Geological Society of Jamaica, and is a member of the International Committee for Studies of Bauxites, Alumina and Aluminium (ICSOBA), and the Society of Mining Engineers of the American Institute of Mining, Metallurgical & Petroleum Engineers.
A geologist and mineral engineer, Mr Lyew-Ayee worked at the Jamaica Bauxite Institute since its inception in 1976 and was its Executive Director for 23 years, retiring in May 2018. For his service to the bauxite/alumina industry in Jamaica throughout his career, the Government of Jamaica awarded him the Order of Distinction (Rank of Officer) in 1988, then the Order of Distinction (Rank of Commander) in 2007.
He is acknowledged as an expert on Jamaican bauxite and the industry in general, and has published more than 24 papers on bauxite, both locally and internationally. He is also known for his work on the management of local and regional geological and mineral resources for development and environmental sustainability.