Photo Caption: Ronaldhino McLean (second from right), Head Boy of Campion College, presents Claudine Allen (third from left), general manager, JN Foundation with the book he co-authored, 'What Makes Children Fly?' during a courtesy call by the Jamaican Association for Debating and Empowerment (JADE) on the JN Foundation at the JN Corporate Office in September. Ronaldhino was a member of the team coached by JADE that won the Rollins College Great Debate in the United States in October 2022. Also sharing in the exchange were (from left) Chevanese Peters, programme coordinator, JN Foundation; Shanna Kaye Wright Vaughn, youth and education programmes lead, JN Foundation; and Germaine Barrett, founder and executive director of JADE
Most people hear of debates during elections or while pursuing academic disciplines such as law. But imagine having your first debate while still in primary school? That was the situation for Ronaldhino McLean who got his first taste of the art at age eight while in grade three, competing against older children in grade six.
"I had to be standing on chairs so I could be at the height of the lectern in front of me," shared Ronaldhino who is arguably now hooked to the activity, with years of experience and accolades to his name.
Ronaldhino, the current Head Boy of Campion College, and a member of the Jamaican Association for Debating and Empowerment (JADE) Secondary Level Gold Club, was part of the debating team, coached by JADE, which won the Rollins College Great Debate in the United States in October 2022. It was his second international tournament, but his skills and contribution silenced a room that was earlier booing him and his peers. The Rollins College Great Debate is a prestigious debating competition that facilitates international exchanges with debating societies from around the world.
Ronaldhino said to prepare for that competition the team had to conduct extensive research on topics that didn't necessarily concern them, such as US politics, US social issues, ethics, philosophy and abortion. He said that made winning more rewarding. "We had to look at different perspectives and views and that's part of what you get and learn from debating," he said while reflecting on the experience.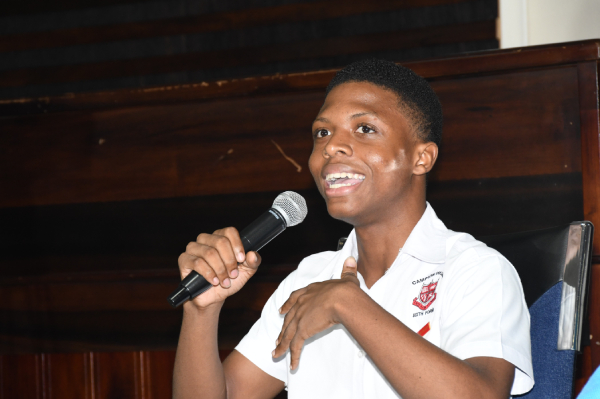 The Head Boy believes his debating and public speaking skills were enhanced by the many arguments and discussions shared with friends and family members over the years. He said his passion for the activity also extends beyond school because when he's not debating, he's at home watching debates on YouTube.
Ronaldhino said he is encouraging more students to explore debating, especially as JADE pushes to entrench the activity in local school curricula. For Ronaldhino, debating is tied to who we are as a people and not only targeted to the 'most-abled' students. He said while the activity isn't for everyone, it encourages participants to critically think and apply knowledge and understanding to issues under pressure.
"I really wish we could break away from the notion that debating is just this activity that intellectuals do. It's something we engage in everyday and we use it in all facets of our lives. We debate with our parents and friends all the time. We debate in music," he reasoned.
During National Debaters Week 2023, Ronaldhino assumed the role of convenor for the Zone A debates held at his school and even without his participation, Campion's Debating Society, of which he's also the president, emerged on top. Ronaldhino said the club currently has between 50 and 60 active members and hopes it will be a model for other schools and communities looking to get more young people interested in the activity.
"Debating can be fun, debating can teach, it can help with socialising and conflict resolution, but students will have to engage with the opportunities that exist. I'm encouraging students to join their debating societies and push their faculty supervisors to get their schools signed up for competitions. Let's work together to make debating as widely recognised as any other sport in our schools," he urged.
Now in his final year of high school, Ronaldhino hopes to study political science and economics at University. Besides his debating fame, he's also the published co-author of the book titled, 'What Makes Children Fly?'. The book, launched in 2021, was written in collaboration with childcare expert, Karlene Rickard, for use as a learning and development tool for children, their parents, teachers, and mentors.
In September, he presented a copy of the book to Claudine Allen, general manager of the JN Foundation at the JN Group Corporate Office in New Kingston. The exchange formed part of JADE's courtesy call on the JN Foundation, which had sponsored their trip to the Rollins College Debate in 2022.
"There is no doubt that debating is an impactful tool in and out of the classroom and we at the JN Foundation are pleased to support the work of JADE in creating more opportunities for our students to build on their critical thinking and public speaking skills," an impressed Ms Allen remarked as she accepted the book. "Debating really prepares you for life."
Was this article helpful?