The Jamaica Combined Cadet Force is now celebrating the transformation of their multipurpose resource centre courtesy of members of staff of The Jamaica National Group who, on Labour Day, painted the building, and planted shade and fruit trees to enhance the facility.
Warrant Officer Dale Maitland of the Jamaica Combined Cadet Force, in expressing his gratitude to the team, said the completion of the facility would not have been possible without the assistance of the JN Foundation, The Jamaica National Group volunteers, and other partners.
"It is a dream and vision that is being completed today. I am so glad that The Jamaica National Group is onboard to fulfil this dream. Thank you to the team and thank you for being here," he said.
Claudine Allen, general manager of the JN Foundation, led 40 enthusiastic volunteers from The Jamaica National Group to undertake this impactful Labour Day project. She described the experience as an awesome exercise for the volunteers and said that The Jamaica National Group was excited to have undertaken the project.
"It was work that was fulfilling and enlightening for us because the role that uniformed groups like the cadets play and can play in Jamaica is very important. It is our hope to support you in the work that you are doing and get more young people involved so that we can have better outcomes generally," she said.
Omar Wright, lead for Environment and Community Development Programmes at the JN Foundation said the project was undertaken because The JN Foundation is centred on enriching lives and building communities and, therefore, the Foundation did not hesitate to get on board to support the uniformed group. He emphasised that youth and education are priority areas for the JN Foundation.
"We thought that we would not only sponsor the initiative, but we would also mobilise our members of staff to come out and engage in a day of service and give back to the community because we believe in empowering our youth," he added.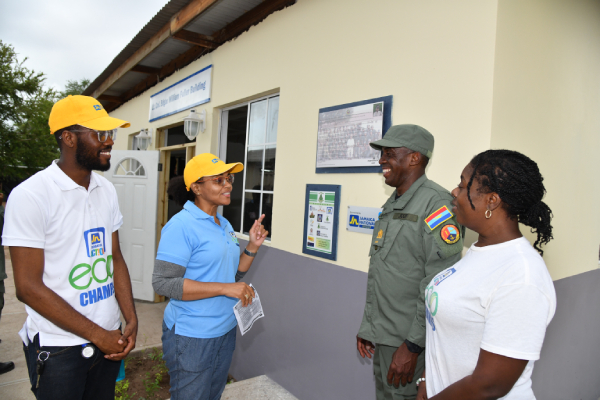 For the volunteers who were on hand to assist with the project, it was a fulfilling day of service. Brittany McFarlane, remote customer service representative, at Total Credit Services, a member company of The Jamaica National Group expressed her satisfaction, saying, "It feels good. It is nice to give back to the community specifically the Jamaica Combined Cadet Force, it was a really fulfilling day,".
Teshena Johnson, customer service representative at JN General Insurance said that it was a productive day for her and that it was good to give back to the Jamaica Combined Cadet Force.
"I felt excited to have been involved in such worthy cause because that will benefit young persons," she said.
Dwayne Brown, executive, Cyber Security at The Jamaica National Group said he was glad to be among the volunteers to contribute to the project.
"Labour Day is a time for everyone to come together and contribute to projects that will benefit our country. I always look forward to Labour Day, so if I'm not doing something in my community, I always try to reach out and try to do things in other communities because I think giving back is important," he said.
The newly refurbished resource centre, recently renamed the Lt. Colonel Edgar Williams Fuller Building in an unveiling ceremony in tribute to the Lt Colonel's dedicated service to the Jamaica Combine Cadet Force, will serve as a space for training of the cadets. It will be equipped with computers and internet to assist the cadets with their educational work. Additionally, the centre will also be used for mentorship training, continuing Lt. Colonel Edgar Williams's legacy of nurturing young individuals into model citizen with exceptional leadership qualities.
Lt. Colonel Edgar Williams served as Commanding Officer of the Independent Cadet Unit for more than 25 years, devoting his time in the training and development of youngsters to mould them into model citizens who display exemplary leadership qualities.
Was this article helpful?