Photo Caption: The JN Foundation presented the Cross Keys Development Area Committee (DAC) with a deep fryer and commercial slicer for its agro-processing facility and a pavilion stand in Cross Keys, Manchester, last year. On hand to make the presentation to members of the Cross Keys DAC are Alethia Peart (second left), business relationship and sales manager at JN Bank; and Dawnette Pryce-Thompson (fifth right), project coordinator, JN Foundation.
The JN Foundation is inviting chapters of the JN Circle across the island to submit proposals for projects that will improve their communities. Successful applications could access grant funding of up to J$1.5 million to address issues related to youth and education, road safety, environmental and climate issues, financial inclusion, and literacy.
Claudine Allen, general manager of the JN Foundation, notes that the Foundation's commitment goes beyond mere grant funding. Noting the capacity development sessions held for members of the JN Circle, was intentionally actioned to empower members to discern and define projects, sharpen proposal writing skills, and gain project management proficiency.
"The intention is to strengthen capacity at the community level, so that our members may capitalise on opportunities to partner with other funding organisations in their work to improve their own outcomes," she said.
Pointing to sustainability and collective benefit as a priority, Ms Allen added, "We want project proposals that are also impactful for groups of people; and are designed in a manner which ensures longevity," she noted. The deadline for the submission of proposals is August 31.
For proposals to be considered, they must meet the following criteria: projects must fit within the themes/focal areas; they must be sustainable and impactful; should have measurable and realistic outcomes; and the project budget should be aligned with the grant amount.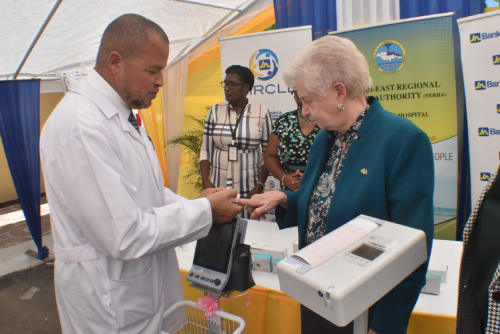 She urged persons to visit the JN Circle website at www.myjncircle.com to learn about the JN Circle and join a local chapter so that they can be a part of an initiative in their community.
"There is a JN Circle attached to a JN Bank branch in every parish. As a member of a JN Circle, you can work with other JN members to make a difference and improve your community, "she said.
The JN Foundation established a pool of funds, to be accessed by chapters of the JN Circle, to fund initiatives that will serve to improve their communities. A selection committee is in place to review applications and determine the winning projects.
Last year, the JN Foundation awarded some $8.3 million for funding projects developed by members of the JN Circle, successfully implementing seven community related projects across the island. The projects that were awarded grants included a skills training centre spearheaded by the Ocho Rios Baptist Church and the Rotary Club of Ocho Rios; the Port Maria Hospital in St. Mary also benefitted from the grant funding with the donation of medical equipment, such as an ECG machine, pulse oximeters and a defibrillator.
Through the work of the JN Circle Junction chapter, the Bull Savannah Primary and Junior High School in St. Elizabeth was awarded funding to furnish an existing open-air lunchroom that caters to some 40 students. The Lucea Circle, assisted the Maryland Primary and Infant School in Hanover to obtain tablets that were used as loaners to students in need. The devices assisted them with accessing lessons remotely, when necessary and provide access to online resources.
Cross Keys and surrounding communities in southern Manchester benefitted from a grant won by the Mandeville Circle, to boost an agro-processing facility and improve a community centre. The Spanish Town Young Men Citizens Association's computer lab in St. Catherine was upgraded with needed air conditioning units.
The newly built centre of the Women's Centre of Jamaica Foundation in Santa Cruz, St. Elizabeth, was another recipient of the grants. The new centre was outfitted with chairs, tables, office equipment, kitchen appliances, cribs and utensils.
The JN Circle is a network of groups which comprises JN members and customers of the companies in The Jamaica National Group. It was introduced in August 2019 and allows members and customers, who share JN's values, to take action aimed at improving outcomes for themselves and for all Jamaicans, wherever they reside. There are 16 JN Circle chapters across the country, with two other chapters in Canada and the United Kingdom.
Was this article helpful?