Photo Caption: JN PEP Scholarship recipients take a group photo after the awards ceremony at The Summit in Kingston on Sunday, November 12.
Twelve-year-old Mykah Roberts, a first form student at Clarendon College, strutted proudly to the podium as he collected his scholarship award. He was among 37 students who have been named JN Scholars.
He and the 36 other young high achievers were handed their awards by the JN Foundation for their outstanding performances in the Primary Exit Profile (PEP) for 2023 on Sunday, November 12, at the Summit, formerly the Knutsford Court Hotel, in New Kingston.
"I'm so happy to be awarded this scholarship. It was hard work preparing for the exams, but the learning was fun," the aspiring zoologist said.
Tishauna Mullings, a development practitioner, and social entrepreneur was the guest speaker at the function and told the scholars that there is a seed of greatness in each of them. She also advised them of the 'Eagle antidotes', or ways of pursuing excellence and honouring their purpose.
"Scholars, I want you to strive for excellence," she said. The next letter in this antidote is ambition; think about where you want to be ultimately, and what you are doing now will contribute to that."
The other areas she mentioned include growth, assuming leadership roles, prioritizing their goals and empowering themselves.
Held under the theme 'Pursuing Excellence, Honouring Purpose', Parris Lyew-Ayee, chairman of the JN Foundation, urged the recipients to pursue their dreams.
"Remember that you have a unique opportunity to pursue your dreams and reach your full potential. Use this opportunity wisely, stay focused, and continue to excel in your academic and personal endeavours. Embrace the challenges and opportunities that come your way, for they will help you grow and develop into a stronger, more confident individual," he charged.
Mr Lyew-Ayee disclosed that since 1983, The Jamaica National Group has been supporting the educational pursuits of hundreds of young people at both the secondary and tertiary levels.
"This year's reception is extra special as we are celebrating 40 years since establishing this scholarship programme. Imagine four decades of changing lives and four generations of hope for a brighter future. It's a momentous occasion that speaks volumes about our dedication to education and empowerment," he said.
Mr Lyew-Ayee informed that The Jamaica National Group's commitment to education has gone beyond monetary assistance.
"It's about nurturing the leaders of tomorrow, individuals who will shape our world with their knowledge, skills, and vision. As we celebrate 40 years, we take pride in being a part of this journey," he said.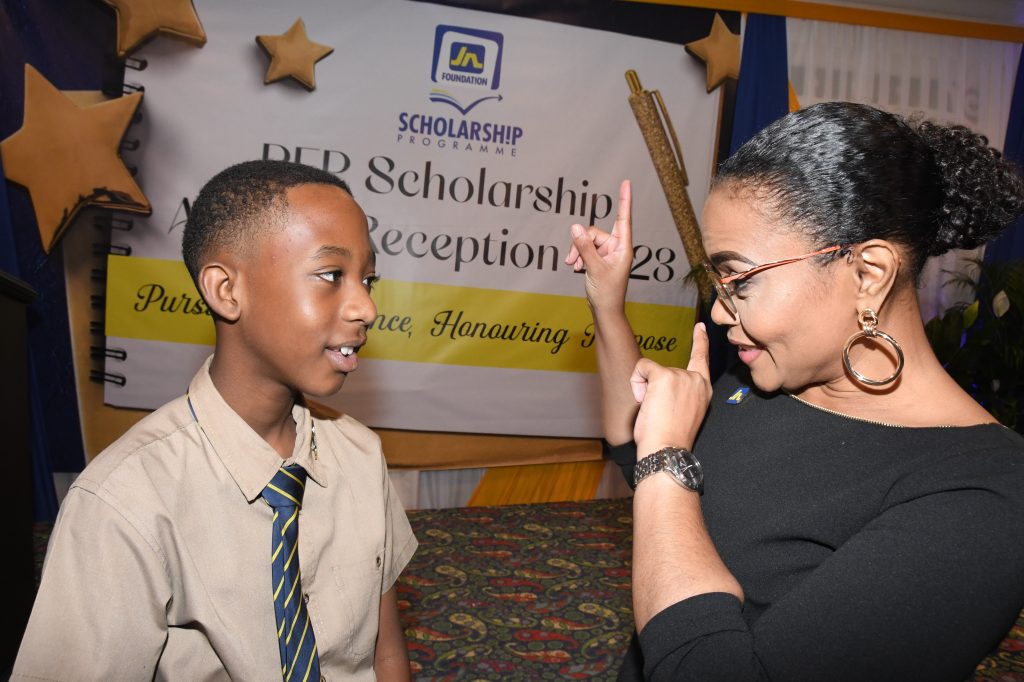 Claudine Allen, general manager of the JN Foundation, disclosed that the scholarship selection was very competitive, with close to 400 applications received islandwide.
"Each of you has demonstrated exceptional dedication, resilience, and passion, and it is with pleasure that we acknowledge your hard work," she said.
A total of 37 students received five-year scholarships, while 10 students received one-time grants. Of the 37, three are for the top performing applicants from each county and 14 are for the top performing applicants from each parish. The remaining 20 were awarded to children of employees of The Jamaica National Group.
Over the past 40 years, The Jamaica National Group has provided financial support for other educational and youth development initiatives, such as child month initiatives undertaken by the National Child Month Committee and the Ministry of Education and Youth's National Youth month activities.
The JN Foundation has also invested millions in educational transformation initiatives such as the Centres of Excellence and iLead programmes- both targeted at improving leadership in rural-based underperforming schools.
Was this article helpful?