Thirty-five Jamaican schools and sporting associations were the recipients of automated external defibrillators (AEDs) courtesy of Team Jamaica Bickle (TJB), a US-based non-profit organisation formed by a group of Jamaicans living in the United States.
The presentations were made to the institutions recently at a handover ceremony at the University of Technology, Jamaica in Papine, St Andrew.
Irwine Clare, founder of Team Jamaica Bickle, said, while making the presentations to the schools, that Jamaican athletes have represented the country at the highest level and should be supported.
"Our athletes have demonstrated to us their professionalism and discipline towards their craft. Therefore, as supporters of what they do, we have to step up our game. So, every year, we raise the bar," he said of Team Jamaica Bickle.
"It is important that we invest in our youth, especially in sports, as one of the avenues for a youngster to self-actualise, because when we provide opportunities like that, it means they are steered away from other situations," he pointed out as he reenforced his commitment to supporting student athletes.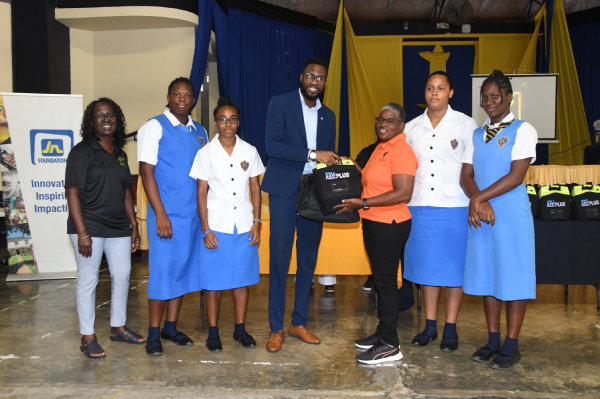 Keith Wellington, president of Inter-Secondary Schools Sports Association (ISSA), in expressing gratitude on behalf of the institutions, cautioned the schools not to keep the machines locked away, but that they should be kept close by during play in case of emergencies.
"On behalf of ISSA and all our schools, I want to say thank you to Team Jamaica Bickle and all its partners, including [The] Jamaica National Group, and all alumni associations and members of the diaspora who have made this effort to make this contribution," he said.
Minister of Education and Youth, Fayval Williams, also expressed gratitude to Team Jamaica Bickle for supporting physical education in schools.
"We are delighted to have this opportunity to acknowledge and celebrate the commendable effort put forth to support physical education and sports. Today, we gather to express our gratitude and appreciation to Team Jamaica Bickle for their invaluable contributions to our educational institutions," she said.
Omar Wright, lead, Environment and Community Development Programmes at the JN Foundation, said that the Jamaica National Group was happy to partner with Team Jamaica Bickle.
"Jamaica National is committed to the wellbeing of our nation's children and our athletes who represent us on the world stage. We recognise the importance of investing in the safety and health of our children, and through this partnership, we signal our commitment to corporate social responsibility by creating places and environments where our youth can be safe," he said.
The Team Jamaica Bickle Defibrillator in Schools programme began in 2014 after the loss of St Jago High School student Cavahn McKenzie during a cross-country meet in Tobago. It spurred the entity into action as it realised that there was a need to have emergency resources readily available to schools, especially at sporting events.
Since 2014, the organisation has donated more than 100 AED units in schools and trained over 400 members of staff.
Was this article helpful?