Photo Caption: Camille McLeish (right), analyst, innovation and hospitality at the Tourism Enhancement Fund (TEF)makes a point to (from left), Stephen Bennette, chief executive officer of Rumcast; Lori-Rene, chief executive officer of Monis Voice and Rose Miller, manager, Strategic Empowerment at the JN Foundation. They were attending the capacity building training workshop organised by the JN Foundation in collaboration with the TEF.
Thirty-five artisans who will operate shops in the Artisan Village at the Falmouth Pier in Trelawny were exposed to capacity building training through workshops organised by the JN Financial Academy, in collaboration with the Tourism Enhancement Fund (TEF).
Under the theme, 'Going for Growth', the workshops were held in Kingston and Falmouth on September 20 and 22. The artisans were exposed to brand development, product management and customer insights; leadership skills, pricing, and record keeping; as well as personal financial management training. Follow up sessions are to be held virtually, to assess impact and provide additional coaching.
Rose Miller, manager, strategic empowerment programmes at the JN Foundation, said the objective was to expose the artisans to empowering material relevant to the growth and development of their enterprises. The focal areas chosen were identified by the artisans themselves based on an assessment survey conducted prior to the sessions.
The workshops also sought to raise participants' awareness of the importance of financial education, discussed proven money management skills, such as budgeting and highlighted the importance of capturing, analyzing and utilizing data to create or improve products and services. The application of customer insights and analysis was also explored as a useful tactic in efforts to enhance customer experience.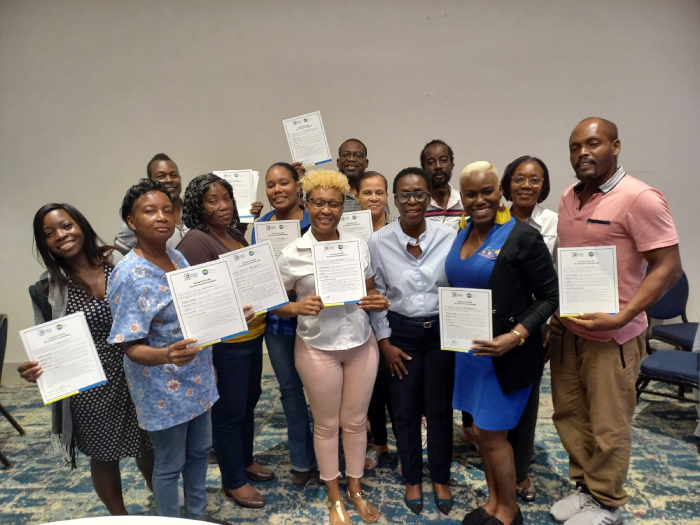 "We exposed the artisans to practical ways of positioning their business for growth through the development of a strong brand and effective marketing utilizing mediums such as social media and other online platforms. Participants were guided as they spent time creating their personal budgets, engaged in a pricing exercise, and creating the ideal persona for their products and services. At the end of the workshops, they signalled their intention to adopt several of the habits learned, which will drive business success, by signing to My Personal Commitments," Mrs. Miller disclosed.
Tarik Henry, sculpture artist from the Mighty Gully Youth Project in St. Catherine, described the workshop as very useful and informative.
"I learned a lot. It is a good experience. I have never heard some of this information before such as how to budget and manage the finances of the business. I'm now more equipped in terms of how to manage the finances of my business and how to practice good record keeping."
Kemoy Morgan, chief executive officer of Purple Jade, which specialises in handmade jewellery, said that the workshop provided information in a manner that was easy to understand.
"I am more motivated and encouraged to apply what I have learned to my business. The information was not full of jargon or technical language that I could not understand. I feel empowered to apply it and look forward to seeing growth in my business," she said noting that she learnt a lot about branding and marketing of her business, which was presented by the JN Group Marketing department.
Loi-Rene Letts, chief executive officer of Moni Voice, which produces crotchet art, said her key take-aways were on pricing and budgeting, which was presented by the Jamaica Business Development Corporation (JBDC).
"It was impactful. It was a lot of helpful information and take aways that I can implement in my business and actively use to improve my business," she said, adding that she was grateful for the focus especially on how to price her products so that the business makes a profit and is not operating at a loss.
Carol Rose Brown, director, Jamaica Centre of Tourism Innovation at the TEF, expressed gratitude to the JN Foundation, other presenters – the JN Group Marketing department, JN Bank and the JBDC for the workshop and the knowledge imparted to the artisans.
"We want to thank them for coming to guide us and sharing this information," she said, pointing out that the Artisan Village is scheduled to open at the end of October.
This Artisan Village is expected to become a cultural and economic landmark, offering a rich tapestry of indigenous crafts, entertainment, and opportunities for local artists.
Was this article helpful?