Photo Caption: Earl Jarrett (second right in back), chief executive officer of The Jamaica National Group and Claudine Allen (at right, front row) take a group photo with winners of the JN Foundation Jamaica 60 Photo Competition – Gerald Gordon (second left, front row), first place winner in the Greatness in People Category and Advocacy Award, he also placed third in the Greatness in Community Category; Kaodi Allen (third left), winner of the Greatness in Community Category; Sharlene Higgins (fourth left, front row), who placed second in the Greatness in Community Category and Tevaughn Gordon, brother of Joshua Gordon who won the People's Choice Award and placed second in the Greatness in People Category. Sharing in the moment are Radcliffe 'Ruddy' Roye (left in the back), photo journalist and one of the trainers; Stuart Reeves (second left, back row), one of the trainers; Shanti Persaud (third right, back row), one of the judges and Omar Wright, lead, Environment and Community Development Programmes at the JN Foundation. Occasion was the awards ceremony which took place at the Corporate Offices of the Jamaica National Group on Oxford Road in Kingston on August 30.
Seventeen-year-old, Kodia Allen, a sixth form student at Manchester High School; Gerald Gordon, fine art photographer; and Joshua Gordon, a third-year student at the University of Technology, Jamaica, emerged winners of the JN Foundation Jamaica 60 photo competition.
The awards ceremony took place recently at the JN Group Corporate offices on Oxford Road in Kingston.
While winning a major competition of this nature is not new to Gerald Gordon and Joshua Gordon, who are both unrelated, this is the first time Kodia has emerged a winner.
"I feel elated, and it has taught me patience. The patience was worth it as I came out on top and I'm excited," said Kodia, winner in the 'Greatness in Community' category.
Her winning image, entitled 'Uncountable Badges' captured her friends helping the newly-elected Jamaica Prefects Association (JPA) president, Gabrielle Bryan, with her badges on the joyous occasion. She said for her that moment of friendship and unity was a very powerful form of advocacy.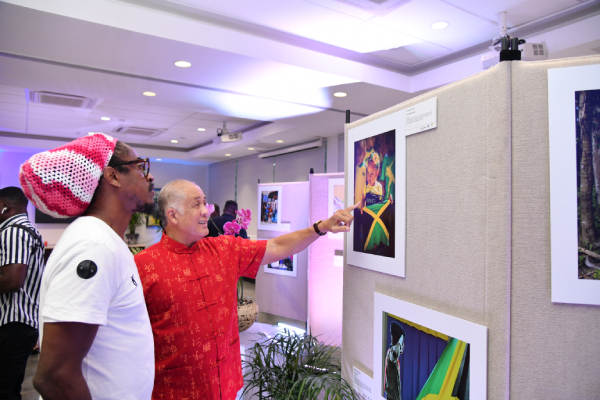 "I was inspired by friendship at its finest. I followed my friend to support her in being elected JPA president and just seeing the process, especially behind the scenes, I just decided not to wait on the limelight but take the picture behind the scenes, working up to the moment that we all looked forward to seeing," she said underscoring the value of friendship.
Kodia's words of advice to persons interested in photography are simple- 'always be armed with your camera'. She hopes to, one day, take up photography as a business.
Gerald Gordon is not new to winning. He was the winner of the Prime Minister's Calendar Photo Opportunity Competition in 2021 and The Gleaner's Capturing Kingston Photo Competition in 2018. He is however still excited about his latest accomplishment.
"I'm lost for words, but I'm bursting with joy inside," he said shortly after being named the winner of the 'Greatness in People' category for his piece 'My Honest Bread'. He also received two other awards, winning the Advocacy Award with the same entry and was placed third in the Greatness in Community category for his submission, 'The Future of Sports'.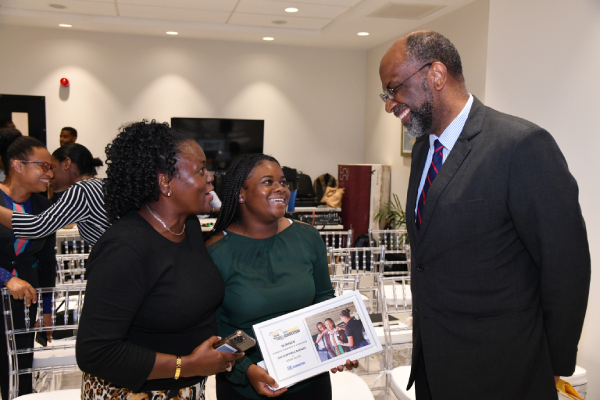 His winning shot, 'My Honest Bread' captures Venessa, a vendor from Greater Portmore, St Catherine, and her daughter pushing her stocked cart of goods. Both mother and daughter routinely perform this task just before Venessa's daughter goes to school each day.
"I was in a car with my friends returning home, and when I saw the scene, I said to my friend 'stop the car' and when I saw the shot, I said 'this is it'. In fact, I took the photo on the morning of the deadline for submission of the photo," he informed noting that Vanessa's action of earning an honest living was a form of advocacy.
Gordon, who has a photography business, said that the knowledge gained from participating in the competition will help him to produce better quality work.
"Photography is my bread and butter, and I'm happy to have gained further knowledge about my craft through the masterclasses conducted by the trainers. My mind is now rushing with ideas and the knowledge that was imparted," he said.
"As a fine arts photographer, myself, I dive into the theory of photography telling stories through my lens, and I'm seeing it from a different perspective now," he said.
Joshua Gordon, who had previously emerged second place winner of the JN Resolution Project COVID-19 Jamaica Photography Competition in 2020/21, said that he was happy to be a winner again. He won the People's Choice award with his piece entitled 'Salute to 60', which captured a cadet from Clarendon College as he raised his hand to his head in salute at an event to mark the high school's Founder's Day on February 2 this year.
"This image stood out mainly because of the significance of the ceremony, the patriotism, and the angle. The cadet's salute represents us Jamaicans showing respect and love to our country, which was simply iconic," he said.
Congratulating the winners, Claudine Allen, general manager of the JN Foundation, expressed hope that the competition would spark more advocacy for causes that will positively impact the country.
"We wanted this competition not to be just something that you came across on social media where you enter, and you win some money, but we wanted to leave with you a lesson. We wanted to build the capacity for the skill and art of photography but also advocacy," she said, noting that the competition attracted close to 500 entries.
"We hope that you heard something that will reassure you and give you hope. But we hope you heard something that made you uncomfortable and feed that thing inside you to bring you out of the box that you are in and to tell your story differently," she said, noting that the competition provided a platform for the participants to amplify their voice and advocacy.
The JN Foundation launched the Jamaica 60 Photo Competition in 2022 in celebration of Jamaica's 60th year of Independence. The competition invited persons passionate about photography and community advocacy to enter.
The aim of the competition was to equip and train Jamaicans in the art of photography and advocacy. The competition focused on celebrating Jamaica's 60th year of independence, under the theme Greatness Through the Lens, an ode to the national theme Re-igniting a Nation for Greatness.  
First place winners received cash prize of $100,000, second place $50,000 and third place $25,000. Other winners in the competition were Javan Sutherland who placed third in the 'Greatness in People' category and Sharlene Higgins who placed second in the 'Greatness in Community' category.
Was this article helpful?