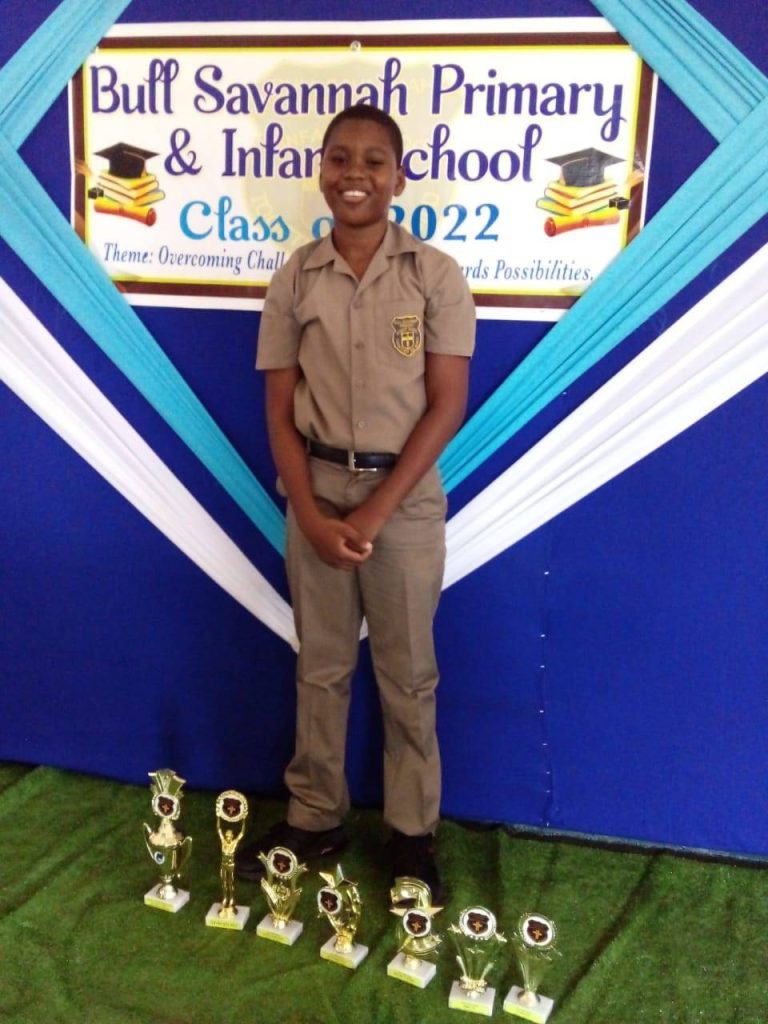 Just months prior to sitting the Primary Exit Profile (PEP), 12-year-old Tay-Jeanne Townsend,  former student of Bull Savannah Primary and Infant, lost two close members of his family..
"It was a difficult period for the family," said Tay-Jeanne's mother, Shayon South. "At a point in time there was a setback for him academically in him not being able to complete assignments on time and missing assignments."
Tay-Jeanne triumphed over this challenge to become the JN Foundation Scholar for the parish of St Elizabeth as a result of his outstanding performance in the PEP. Having achieved a score of 382, he earned a place at Munro College. In addition, he emerged the top boy, top PEP performer and top overall performer for his former school and was awarded seven trophies.
"It's the preparation that we would have made before and lots of prayers and overall, God's grace because we started preparing and practising in advance as well as the efforts of the teacher," Ms South explained.
"I'm excited, happy and proud. We all know that he had the capability but he has far exceeded my expectations so I am extremely grateful," she added.
In recognition of his accomplishment in the PEP, Tay-Jeanne, along with 46 other students, was officially recognised by the JN Foundation at an event held at the Terra Nova All-Suite Hotel recently. Thirty-seven of the students were awarded five-year scholarships by the JN Foundation and 10 were presented with one-time grants courtesy of JN Money, the remittance service provider of The Jamaica National Group. Fourteen of the scholarship awardees are parish recipients, three are JN Bank Easi Save County scholars, and twenty are children of employees of The Jamaica National Group.
Tay-Jeanne, who attended extra classes during the week and on Saturdays to help him to prepare adequately, pointed out that the scholarship award was a pleasant surprise.
"I know I was smart but I guess I didn't really think I was going to be that smart to get a scholarship," said Tay-Jeanne.
He related that attending classes online during the COVID-19 pandemic was a bit problematic.
"I didn't get to see some of my friends' faces for a very long time and I was eager to see them again."
He is optimistic that other students who are currently preparing for the next sitting of the PEP can do well if they are dedicated to their school work.
"Work hard. If you don't understand what the teacher has told you about a subject, go on YouTube and see if you can find videos about it that let you understand more," he recommended.
Tay-Jeanne is enjoying the experience at his new school. He pointed out that his favourite subject is French and that he has joined the Automotive Club because of his love for motor vehicles. In addition, he is also considering joining the Cadets. He enjoys playing football, cricket and video games and hopes to become a businessman trading in electronics so that he can help take care of his family.
The JN Foundation received approximately 550 PEP scholarship applications through its website for this year's scholarship award. As part of the eligibility for the scholarship, the child or parent is required to be a member, customer, or client of The Jamaica National Group for at least one year. JN employees are invited to apply for the scholarship on behalf of their children. Since the inception of the JN Scholarship Programme in 1983, hundreds of students have benefitted from financial assistance to pursue their secondary education.
Was this article helpful?