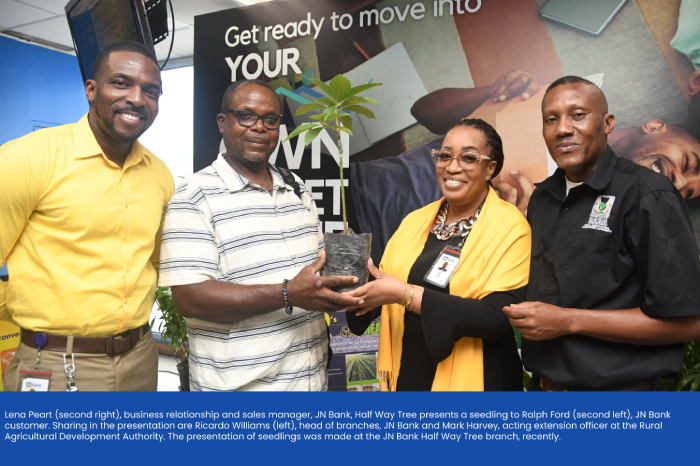 In support of the National Tree Planting initiative, The Jamaica National Group has distributed 700 seedlings to its members. The mixture of fruit and ornamental tree seedlings were distributed as part of a pre-Labour Day activity across five of its branches island-wide, recently.
Kimberly Gardner, marketing relations officer of The JN Group Marking Department said the distribution was in support of this year's national Labour Day theme, 'Plant a Tree for Life, Promoting Climate Change Mitigation, Food Security and Road Safety'.
"We did a similar initiative last year and this year was a continuation of that promise to support the national thrust to plant three million trees, which is being spearheaded by the Forestry Department," she explained.
"It also coincides with our own initiative to ensure that the environment is one that is safe and that there is sustainability by ensuring that we plant as many trees as we can," she said.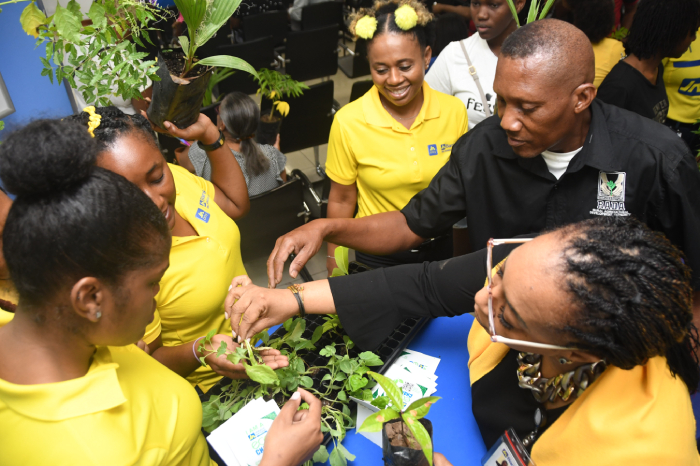 Mrs Gardner said the initiative forms part of the JN Group's Environmental Sustainability Programme, which is being done through the JN Foundation. The programme is geared at supporting environmental awareness practices in Jamaica by focusing on key areas, such as deforestation, waste management, water conservation and energy efficiency.
The marketing relations officer disclosed that fruit and ornamental trees were distributed to its members at JN Bank branches in Portmore and Spanish Town in St Catherine; Half Way Tree in St. Andrew; May Pen in Clarendon and the JN General Insurance office on King Street in downtown, Kingston.
Mrs Gardner informed that an agronomist from the Rural Agricultural Development Authority (RADA) was on site at the Half Way Tree location informing customers about how to care for the plants they were gifted.
"What we have found is that there are numerous tree planting activities each year but not a lot of support in terms of plant care. So, we thought that having an agronomist on site to share information with our customers would be beneficial," she said.
The agronomist also gave tips on how to create a backyard garden and how to manage the different plants that were distributed.
JN members who received the trees commended the financial institution for executing the initiative. "This initiative undertaken by The Jamaica National Group is good. Everybody should be planting as this is good for the environment," said Gareth Fairweather, a JN member.
Mrs Gardner said the initiative will be sustained.
"We look forward to executing more initiatives like these as we emphasise the importance of tree planting and supporting a healthy environment," she stated.